Taida Radiator Fan + Thermostat (DIO, GY6, Universal)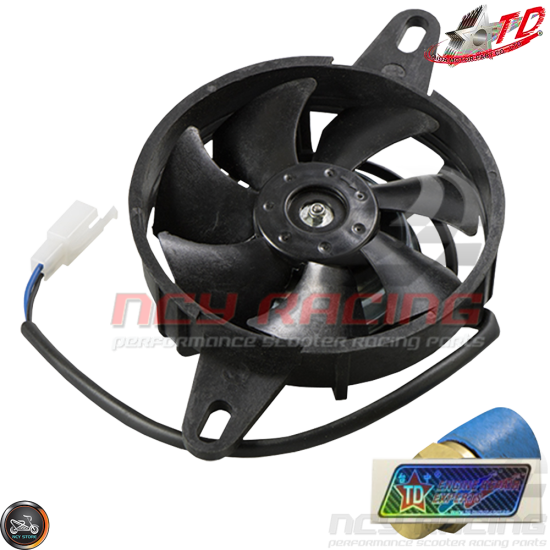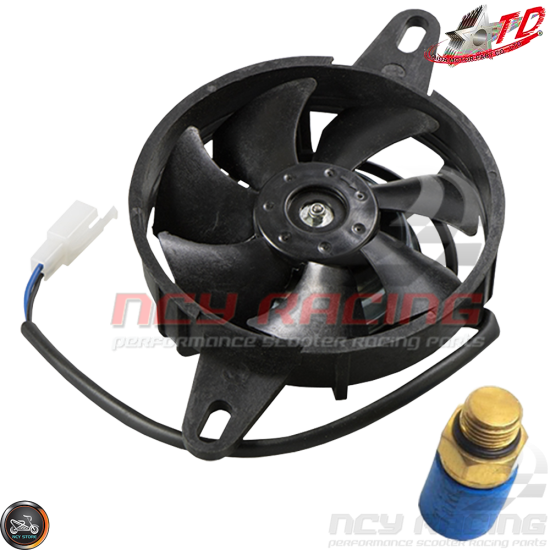 ETA 45 - 60 Days

Description: Taida Radiator Fan + Thermostat is the perfect connection to Taida scooter radiators and liquid cool cylinders. A cooler cylinder equals lower engine temperatures, lasting piston use, and longer engine life in all riding conditions. The thermostat will start the fan when the temperature up to about + - 80cc. (75~85cc)
Specifications:
Includes the following Fan with Wire harness, Thermostat, and Screws.
• 1x Radiator Fan 7-Blade L: 195.5mm / W: 120.65 / H: 47.57mm
• Wire Harness 11" / Male: 2-Pin
• 1x Thermostat Bolt L: 42.3mm / W: 24mm / Thread D: 15.72mm
• Male: 2-Pin / Autostart Temp: ±80cc. (75~85cc)
• 2x Stainless Steel Hex Bolts: M6x22mm
• Color: Black
• Made in Taiwan
• Fit Taida Radiator (Part# RAD-28-13)
• Fit Taida Radiator Fill Cap (Part# TD-CAPI-ITALY)
• Fit Taida Radiator Hose (Part# TD-HSB)
• Fit Taida Radiator Pump (Part# TD-12P)
• Fit Taida Cylinder Liquid Cool Kits
• Fit 54mm Stud Spacing (A-Block)
• Fit 57mm Stud Spacing (B-Block)
• Fit GY6 125/150cc+ BORE
• Fit DIO 50/90cc+ BORE
• Optional: cut plastic fan shroud for best fitment

Supported Models: Honda Dio AF16 AF18E 50, Elite 50, Kymco ZX, SYM, GY6 152QMI 157QMJ 161QMK 161QML Chinese Scooter, ATV, Genuine Buddy, Kymco, Polaris RZR 170, Ruckus, Vento, and virtually any scooter engine with these measurements.
-----
Item Weight & Product Dimensions:
• 0.75 pounds | 7.7" (L) x 4.75" (W) x 1.873" (H)

Taida Radiator Fan + Thermostat (DIO, GY6, Universal)
Stock:

ETA 45 - 60 Days

Reward Points:

4

Part #:

TD-FT

Taida
Price in reward points: 121
Tags:
taida radiator fan thermostat dio gy6 universal
,
taida radiator fan and thermostat dio gy6 universal
,
taida radiator fan and thermostat
,
taida radiator fan
,
taida radiator thermostat
,
taida fan thermostat dio gy6
,
taida fan thermostat gy6
,
taida fan thermostat honda dio
,
taida fan thermostat
,
fan thermostat
,
taida fan
,
taida thermostat
,
taida fan and thermostat