Bando CVT Belt 828-22.5-30 Kevlar (Elite, Helix 250)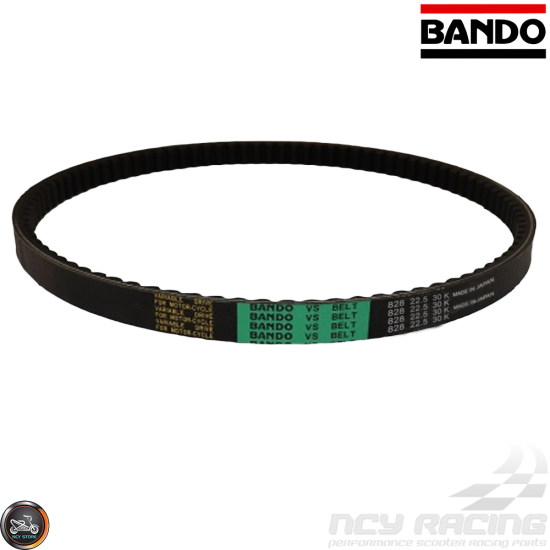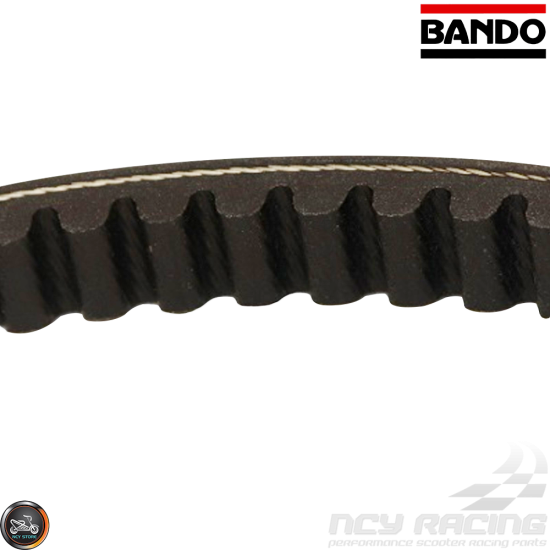 Description: Bando Brand Premium CVT Drive Belt size 816-22-30 is made in Japan, not China's version. Its material used is Aramid aka "Kevlar" which is used in making bullet-proof vests. Aramid characteristics reduce belt stretching and stress that can adversely affect the quality of belt engraving performance while preserving long belt life. Recommend for heavier duty off-road application. CVT Drive Belt size 816-22-30 commonly found on CF172mm (250cc) engines commonly found on the Honda Helix CN250 & Honda Elite CH250 scooters.
Installation: 1. Slack the belt by opening the CVT clutch gives belt slack to the variator side. 2. Then install the variator drive face while lifting the slack belt further away from the center boss if done properly should not see any splines between variator drive face slop-side and boss flat-side. Should be flushed together. 3. Then install the existing variator fan, washer, and hand-tight nut. 4. Finally, apply blue Loctite, torque nut to 30-35ft lbs. For reassurance please consult your manufacturer variator torque specs.

Specifications:
Include the following one belt.
• Replaces OEM Belt: 23100-KM1-671
• Aramid Bullet Proof Vest Reinforced Material
• Length: 828mm (Loop 16.299 in.)
• Width: 22.5mm (0.885 in.)
• Groove Angle: 30°
• Heat and Oil Resistant
• Made in Japan
• Fit Elite 250
• Fit Helix 250

Supported Models: Honda Elite 250 (CH250), Honda Helix (CH250 / CN250), and virtually any other engine with these measurements.
-----
Item Weight & Product Dimensions:
• 0.33 pounds | 16.299" (L) x 0.885" (W) x 0.354" (D)

Bando CVT Belt 828-22.5-30 Kevlar (Elite, Helix 250)
Stock:

39

Reward Points:

1

Part #:

106-106

Bando
Price in reward points: 48
Tags:
bando cvt belt 828-22.5 30 kevlar elite 250
,
bando cvt belt 828-22.5 30 kevlar helix 250
,
bando 828-22.5-30 cvt drive belt honda elite
,
scooter bando belt
,
cvt belt
,
cvt belt 828-22.5-30
,
828-22.5-30 belt
,
828-22.5-30 belt
,
828-22.5-30
,
cvt drive belt
,
honda cvt belt
,
honda elite drive belts
,
scooter belts
,
scooter cvt belts
,
scooter belt 828-22.5-30
,
bando 828-22.5-30 cvt drive belt kevlar
,
honda cvt belt
,
kevlar drive belts