Taida Cylinder Head 52mm 88cc 2V 21.5/19 (139QMB)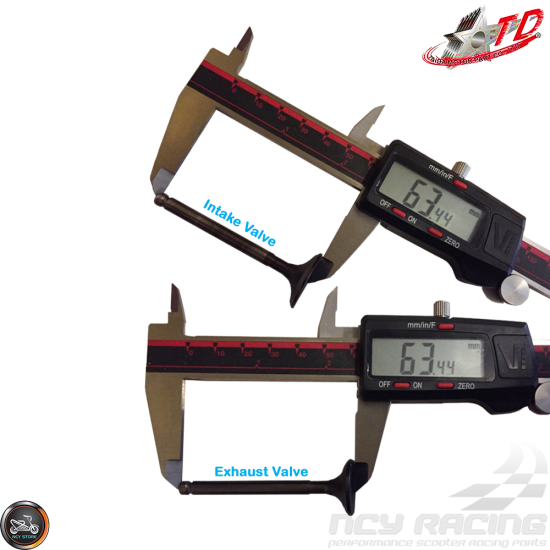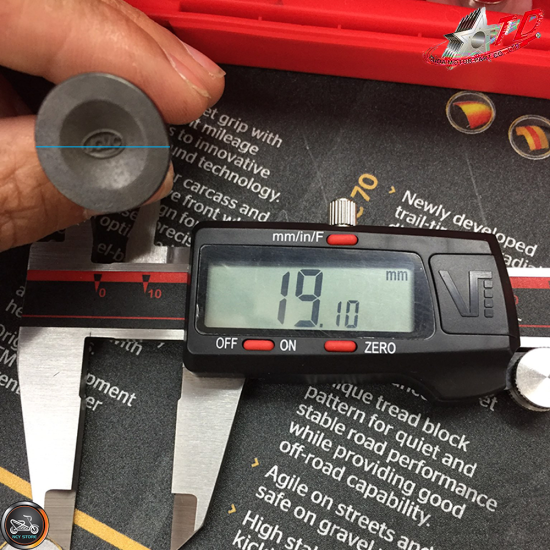 ETA 45 - 60 Days
Description: Taida Cylinder Head 52mm 64mm with big 2-Valve racing' 21.5mm intake / 19mm exhaust. This cylinder head fits the Taida cylinder kit [50mm-52mm] for 139QMB 81-88cc engines (scooters, quads, and buggies) To increase performance we suggest a performance camshaft.
NOTE: Most stock 139QMB cylinder head's valve height is 69mm which comes standard with its 69mm rockerarm. This Taida Cylinder Head's valve height is 64mm and will work only with a 64mm rockerarm only. If you need a set of 64mm rockerarm see Part# 151-101 sold separately.

Specifications:
Includes the following Cylinder Head, Valves Assembly, Gaskets (manifold spacer +gasket, steel exhaust gasket), intake\exhaust studs, nuts, and Taida Sticker.
• 1x Cylinder Head Stud Space: 50mm / H: 60mm / Intake Port: 24mm / Exhaust Port: 22mm
• 2x Valves: 21.5x64mm Intake / 19x64mm Exhaust / Stem: 5mm / (w/intake valves) H: 66.1<67.3mm
• 1x Plastic Intake Manifold Spacer L: 58mm / ID: 21mm / W: 38mm / H: 5.15mm
• 1x Paper Intake Manifold Gasket L: 58mm / ID: 21mm / W: 38mm / H: 1mm
• Intake Manifold Gasket Bolt-to-Bolt Space: 45mm
• 2x Intake Studs: M6x62mm
• 1x Exhaust Gasket L: 68mm / ID: 27mm / W: 45.15mm / H: 1.9mm
• Exhaust Gasket Bolt-to-Bolt Space: 45<51mm
• 2x Exhaust Studs: M6x35mm
• Made in Taiwan
• Fit Intake Studs: M6 / Nuts: M6 / Socket: 8mm
• Fit Exhaust Studs: M6 / Nuts: M6 / Socket: 8mm
• Fit Rocker Arm Assembly: 64mm / Feeler Gauge: .004in / .005in / Socket: 9mm
• Fit Cylinder Studs: 168mm 176mm / Nuts: M7 / Washers: M7 / Socket: 10mm
• Fit 50mm Stud Spacing /Diagonal 70.5mm
• Fit Cylinder 50mm to 52mm 2V
• Fit Crankshaft 41.4mm to 44mm
• Fit Dowel Pin Set (8x14mm)
• Fit QMB 49/50cc+

Supported Models: GY6 139QMB 49cc-50cc 4-Stroke engines, Filly 50, Kymco 50, QLink 50, SYM 50, TaoTao 50
-----
Item Weight & Product Dimensions:
• 2.194 Pounds | 5.322" (L) x 5.290" (W) x 2.610" (H)

Taida Cylinder Head 52mm 88cc 2V 21.5/19 (139QMB)
Stock:

ETA 45 - 60 Days

Reward Points:

6

Part #:

GY650-020-21.5-19

Taida
Price in reward points: 157
Tags:
taida cylinder head 52mm 88cc 2v 21.5-19 139qmb
,
taida cylinder head 52mm 2v 21.5-19 139qmb 81-88cc
,
taida cylinder head 2v 21.5-19 139qmb 50cc
,
taida cylinder head 2v 21.5-19 gy6
,
taida cylinder head 2v 21.5-19 valves
,
taida cylinder head 2v 21.5-19
,
taida cylinder head 50cc
,
taida 50cc cylinder head
,
taida 139qmb cylinder head
,
taida cylinder head 139qmb
,
139qmb taida cylinder head