OKO Carburetor CVK 26mm (139QMB, GY6)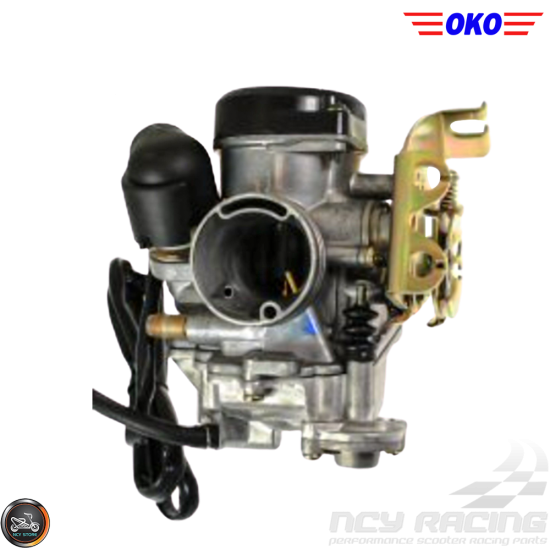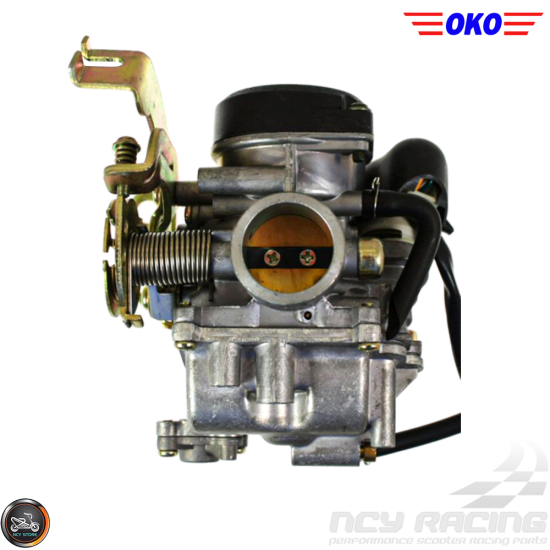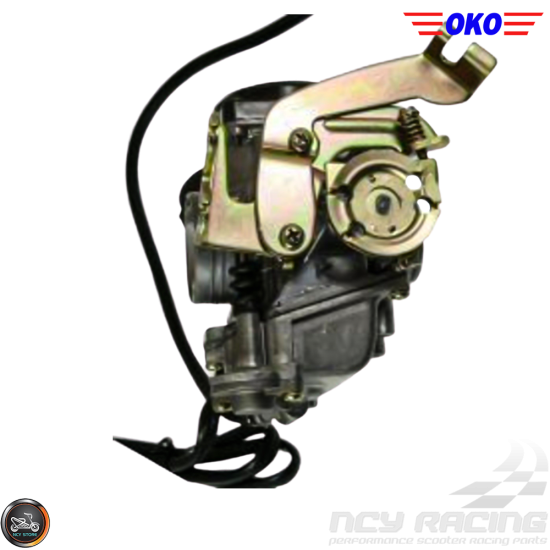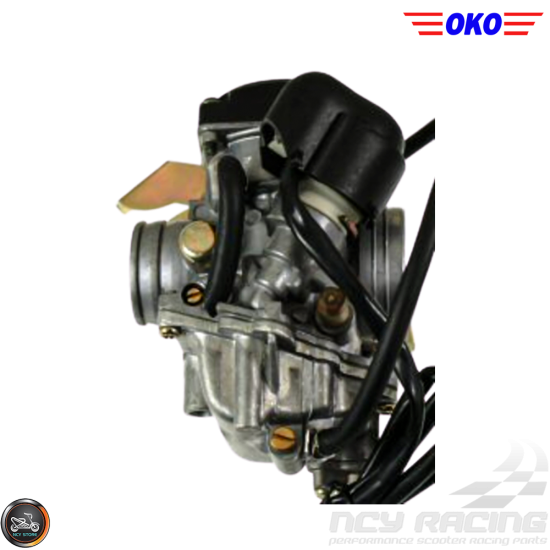 Description: OKO High-Performance 26mm CVK Carburetor for 50cc 4-stroke QMB139 engines. Includes an electric choke and accelerator pump. 24mm intake manifold set recommended. Carb can also be used as a replacement item on standard 125cc engines. Air filter connection: 42mm. Intake connection: 32mm. Jet Size is 5mm.
NOTE: Installation of Naraku Carburetor CVK 26mm on a 139QMB big bore cylinder head will require a bigger intake manifold like the NARAKU V.2 Intake Manifold (Part# NK200.32) and Naraku Intake Manifold Spacer (Part# NK200.04).
Features:
• Auto Choke
• Accelerator Pump
• 2 Cable/Rear Pull Linkages
• Throttle Adjustment Knob
• Open & Adjust Enricher Screw
Specifications:
• Airbox Side: ID 39mm, OD 42mm
• Engine Side: ID 26mm, OD 32mm
• Venturi: 26mm
Jetting-
• Main: 102 (5mm Thread) CVK Style
• Pilot: 35 (6mm Thread x 28 Length) CVK Style
• (comes with additional #32 and #38)
• Made in Taiwan
• Fit Air-Filter Port ID: 3mm max. ± 42mm
• Fit Intake Manifold 2mm max. ± 32mm
• Fit 54mm Stud Spacing (A-Block)
• Fit 57mm Stud Spacing (B-Block)
• Fit GY6 125/150cc+
• Fit QMB 50cc+
Supported Models: GY6 139QMB 49cc-50cc 4-stroke, 50QMF 90cc-100cc, ATV, Avanti, Baja, Baotian, Baron, Bashan, Boreem (BMS), Boss, Bravo, CFMoto, Diamo, Dotera, Eton, Genuine Buddy, GY6 152QMI 157QMJ 161QMK 161QML Chinese Scooter, Honda, Honda Ruckus, JM Star Tomahawk II, Kazuma, Kymco, Lifan, Qingqi, Redcat, Roketa, Schwinn, Strada, SUNL, SYM, Tank, Tank Racer-150DE /150T-7A, Tank Racer-150DS/150T-7B, Tank Touring DE, Terminator, TGB, United Motors, Matrix 150, Vento, Vento Phantom, Verucci, Verucci Viper 150GTX, Wildfire, X-Treme, Yamati, YongKang, ZNEN, and Various unlisted makes/models
-----
Item Weight & Package Dimensions:
• 1.856 pounds | 5.375" (L) x 4.772" (W) x 4.680" (H)

OKO Carburetor CVK 26mm (139QMB, GY6)
Stock:

40

Reward Points:

5

Part #:

169-276

OKO
Price in reward points: 138
Tags:
oko cvk carburetor
,
oko carburetor high performance
,
oko cvk carburetor 4-stroke
,
26mm carburetor
,
oko carburetor cvk 26mm qmb139
,
oko cvk carburetor 26mm
,
cvk 26mm carburetor
,
oko carburetor
,
oko qmb carburetor cvk high performance
,
scooter 26mm carburetor
,
oko qmb cvk carburetor
,
26mm carburetor
,
oko carburetor cvk 26mm qmb
,
oko cvk carburetor 30mm performance
,
cvk 30mm carburetor
,
oko qmb139 carburetor
,
scooter 26mm carburetor 4 stroke
,
oko carburetor cvk 26mm qmb139 50cc