OKO Carburetor PWK w/Power Jet (DIO, QMB)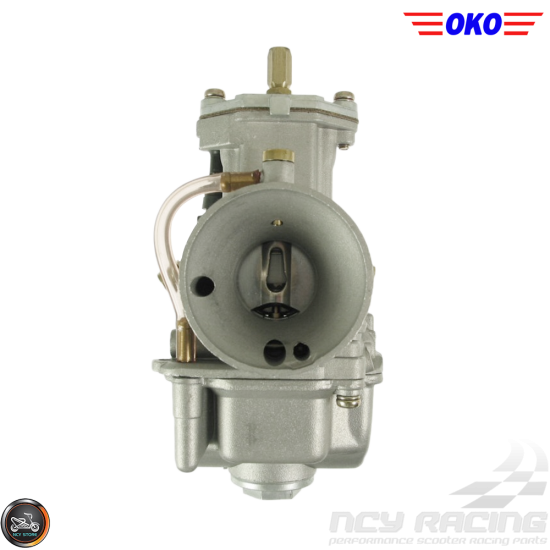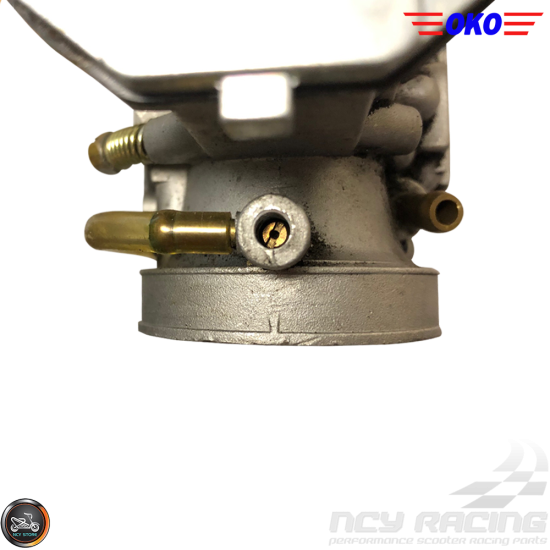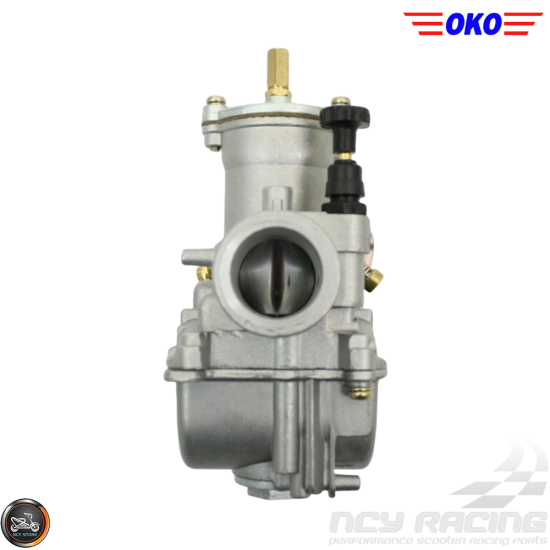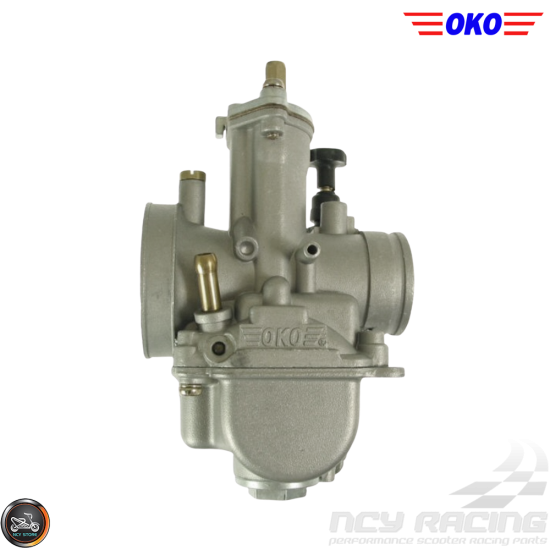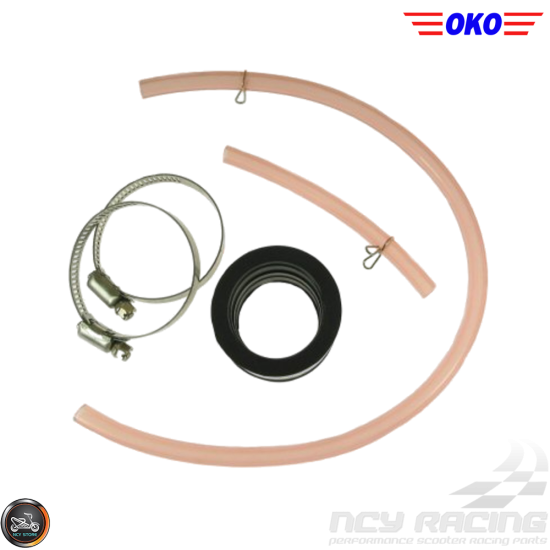 Description: OKO High-Performance PWK Carburetors with Power Jet for 2-strokes engines. It will also work 4-stroke engines just need to block off power jet '0' rpm use Part# 114-64 (sold separately). Choose from OKO Carburetor PWK venturi side opening 19mm to 30mm sizes.
NOTE: Please select the size carb: 19mm, 21mm, 24mm, 26mm, 28mm, and 30mm venturi side opening.
The main jet and idle/pilot jet sizes are as follows:
• 19mm Carb: main 95, idle 42
• 21mm Carb: main 103, idle 42
• 24mm Carb: main 107, idle 46
• 26mm Carb: main 112, idle 46
• 28mm Carb: main 130, idle 48
• 30mm Carb: main 138, idle 48

Specifications:
Includes carburetor with Power Jet, Vacuum Tubing, Intake Manifold Boot & Clamps.
• PWK Carburetor w/Power Jet
• Air filter mount OD: 49.5mm
• Intake mount OD: 34.5mm
• Manual Choke
• Made in Taiwan
• Fit DIO
• Fit QMB

Supported Models: Honda Dio AF16 AF18E 50; Elite S/SE/SR 1994-2001, Daelim Cordi 50, Kymco Fever/ZX50, SYM DD50, 40QMB 50cc 2-stroke, 40QMB 50cc 2-stroke, Eton, Peugeot, PGO, SYM, TGB, Yamaha, Vento, and virtually any scooter engine with these measurements.
-----
Item Weight & Package Dimensions:
• 1.469 pounds | 6" (L) x 6" (W) x 6" (H)

OKO Carburetor PWK w/Power Jet (DIO, QMB)
Stock:

39

Reward Points:

2

Part #:

114-23

OKO
Price in reward points: 72
Tags:
oko pwk carburetor
,
oko pwk carburetor with power jet
,
oko pwk carburetor with power jet 2-stroke
,
24mm carburetor
,
oko carburetor pwk 24mm qmb
,
oko pwk carburetor 24mm
,
pwk 24mm carburetor
,
pwk 24mm carburetor
,
oko carburetor
,
oko qmb carburetor pwk with power jet
,
oko pwk carburetor with power
,
vento 24mm carburetor with power jet
,
scooter 24mm carburetor
,
oko carburetor pwk 24mm vento
,
oko 40qmb pwk carburetor
,
eton 24mm pwk carburetor
,
30mm carburetor
,
oko carburetor pwk 30mm qmb
,
oko pwk carburetor 30mm
,
pwk 30mm carburetor
,
pwk 30mm carburetor
,
oko carburetor
,
oko qmb carburetor
,
oko pwk carburetor
,
vento 30mm carburetor
,
scooter 30mm carburetor
,
oko carburetor pwk 30mm vento
,
oko 40qmb pwk carburetor
,
eton 30mm pwk carburetor