SSP-G Variator Roller Weight Tuning Kit 18x14 (GY6)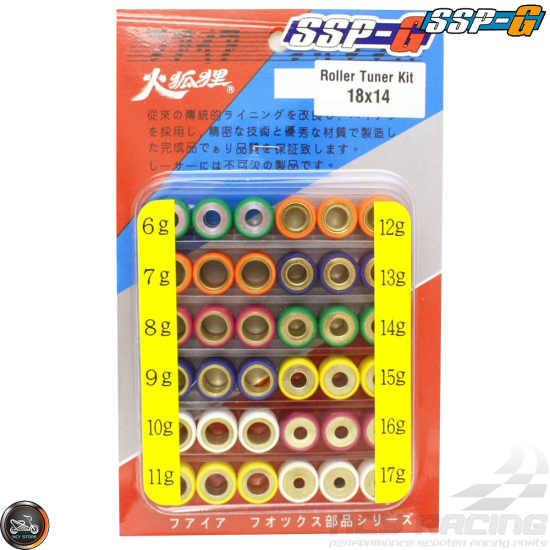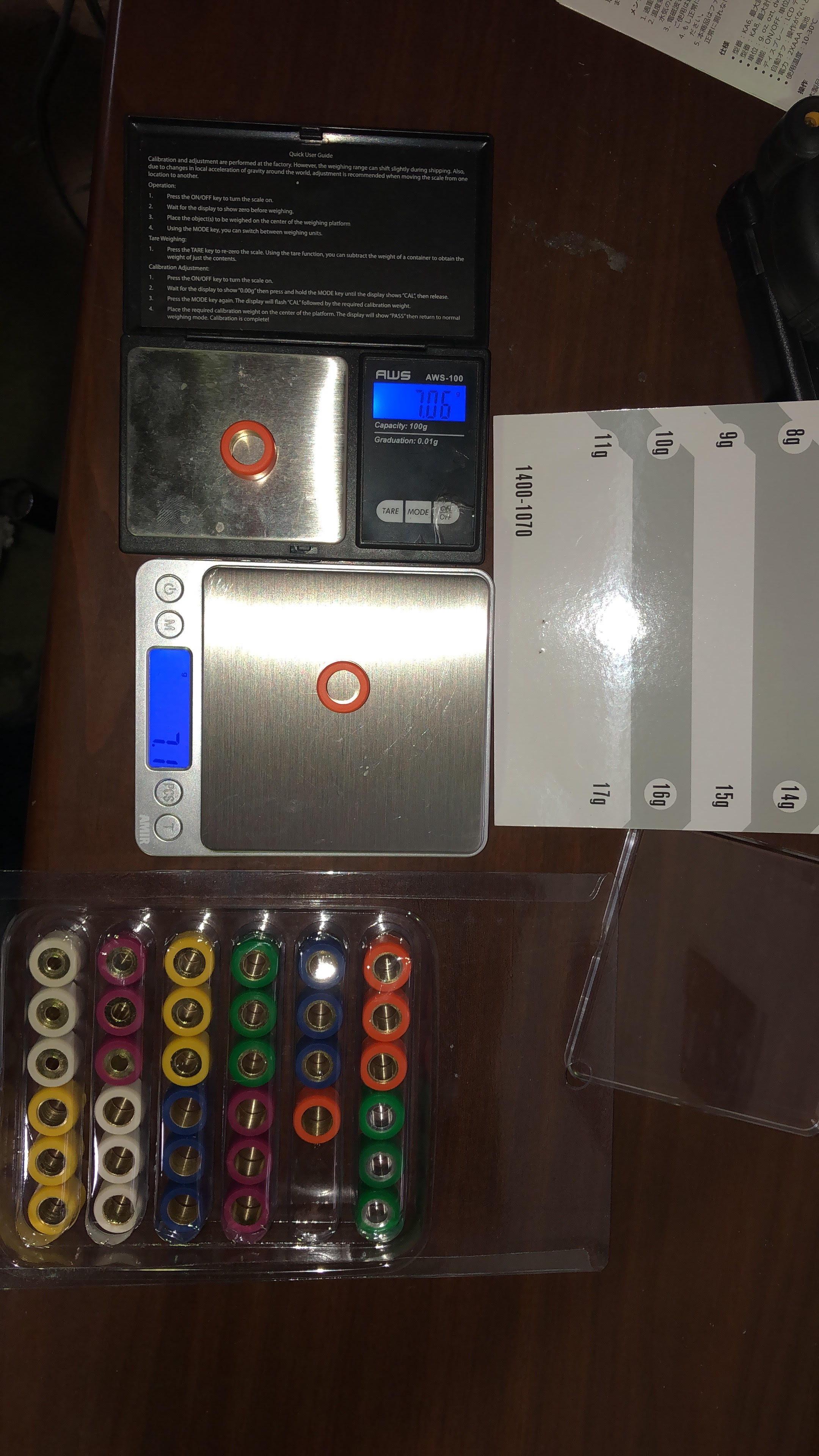 * tested on an actual gram scale tuning rollers can be offset by ± 0.1gm
Description: SSP-G Variator Roller Weight Tuning Kit 18x14mm quality test roller weight set for scooters using GY6 150 engine in scooters and go-carts. Lower your stock 24-27gm weights with 9gm or 11gm for a great performance upgrade for better take-off and just plain replacing worn-out stock weights. SSP-G Roller Weight Tuning Kit 18x14mm for Buddy 125, Blur, and many other scooters. Buddy 125 takes 11.5gm stock rollers, and Blur takes 14gm stock, so play with some different weights and make it rip!

For those of you unfamiliar with roller weights, they are an important tuning device and have a significant impact on your scooter's performance! They should be checked/changed every 1000 miles (per maintenance schedule) to keep your scooter running tops. Over time, roller weights will develop flat spots which will impair the performance of your scooter.
A good indication that your rollers are worn is increasingly high revs for a given speed and/or decreased top speed. Replacing worn rollers will restore and actually improve your low-end power and especially your top speed. Fuel efficiency will also improve dramatically!
Includes 36 Roller Weights, from 6gm to 17gm. Lighter roller weights will increase RPM for any given road speed. Heavier weights will lower RPM for any given road speed. Must be put in a 120° pattern!
NOTE: You must install these weights in an alternating pattern, otherwise a severe imbalance in the variator will occur. These rollers are designed for tuning purposes only and we recommend that they are not used for long-term use. Once you have determined the appropriate weight for your set up you should buy a complete roller or slider set for permanent use.

Installation:
1.
Slack the belt by opening the CVT clutch gives belt slack to the variator side.
2.
Then install the variator drive face while lifting the slack belt further away from the center boss if done properly should not see any splines between variator drive face slop-side and boss flat-side. Should be flushed together.
3.
Then install the existing variator fan, washer, and hand-tight nut.
4.
Finally, apply
blue Loctite
,
torque
nut to 30-35ft-lbs. For reassurance please consult your manufacturer's variator torque specs.
Specifications:

Include the following Roller weight set.
• 36x Roller Weights: 18x14mm 6gm<17gm
• Made in Taiwan
• Fit Variator Housing: 114mm or 115mm / Slides: 3 / Top: 87mm / Boss: 24mm / Shims: 24mm / Drive Splines: 19
• Fit Variator/Clutch Shaft Nuts: M12 / Washers: M12 / Socket: 17mm
• Fit Belt Size: 743, 835, 842-20-30
• Fit Dowel Pin Set (8x10mm)
• Fit GY6 125/150cc+

Supported Models: SSP-G CVT KIT (Part# 169-530); GY6 152QMI 157QMJ 161QMK 161QML Chinese Scooter, ATV, Genuine Buddy, Kymco, Polaris RZR 170, Ruckus GY6 Swap, Vento
-----
Item Weight & Package Dimensions:
• 1.025 pounds | 9.5" (L) x 5.93" (W) x 0.64" (H)

SSP-G Variator Roller Weight Tuning Kit 18x14 (GY6)
Stock:

39

Reward Points:

1

Part #:

169-449

SSP-G
Price in reward points: 35