Dr. Pulley Variator 114mm Set (GY6)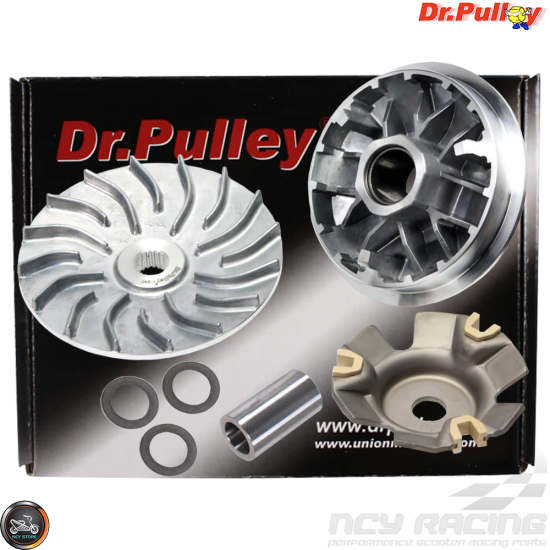 Description: Dr. Pulley products are some of the best on the market today! This racing variator from Dr Pulley is precision-engineered to increase performance over stock GY6variators.The steep angle ramp plates in the Dr Pulley variators allow for faster and smoother engagement at all speeds, allowing lighter weighted sliders to fully extend to make the most of your CVT system. The Dr Pulley GY6 Variator comes with the variator, fan plate, center boss pin and washers. Rollers or sliders not included. This will also work on the Polaris RZR 170.

The Dr. Pulley Variator Set includes a variator boss, variator, slides, machined drive face, and space-washers. Pair these with Dr Pulley's Roller (Part# 169-238) or Sliders Weights (Part# 169-218) for the best performance you can get out of your Dr Pulley Variator.

Specifications:
Includes the following Variator boss, Variator drive face, Variator housing, Variator slides, Variator top, and washers.

• 1x Alumin-Alloy Drive Face / I.D: 14<15mm / Splines: 19 / O.D: 114mm / H: 18mm
• 1x Alumin-Alloy Housing Gray Coated / I.D: 24mm / O.D: 114mm / H: 36mm
• 1x Stainless Steel Boss Length: 38mm / I.D: 15mm / O.D: 24mm
• 1x Metal Top / I.D: 15mm / O.D: 86.9mm / H: 22mm
• 3x Plastic Tan Slides
• 3x Metal Washers
• Fit Roller Weights 18x14mm
• Fit Belt Size: 743, 835, 842
• Fit 54mm Stud Spacing (A-Block)
• Fit 57mm Stud Spacing (B-Block)
• Fit GY6 125/150cc+
Supported Models: NCY CVT KIT (Part #1200-1048); GY6 152QMI 157QMJ 161QMK 161QML Chinese Scooter, ATV, Genuine Buddy, Kymco, Polaris RZR 170, Ruckus, Vento
-----
Item Weight & Product Dimensions:
• 1.106 pounds | 4.528" (L) x 4.528" (W) x 2.968" (H)

Dr. Pulley Variator 114mm Set (GY6)
Stock:

17

Brand: Dr. Pulley
Reward Points:

3

Model:

181401

Weight:

1.92lb

Dimensions:

8.10in x 6.10in x 3.00in

SKU:

169-263

MPN:

181401
Products Sold: 4
Product Views: 9657
Price in reward points: 89
Tags:
dr. pulley variator 114mm set gy6
,
dr. pulley coated variator 114mm set gy6
,
dr. pulley coated variator 114mm gray color
,
dr. pulley coated variator
,
dr. pulley variator
,
gy6 variator
,
scooter variator
,
dr. pulley super transmission set
,
dr. pulley cvt kit
,
dr. pulley cvt variator kit
,
dr. pulley cvt set
,
dr. pulley cvt variator set
,
gy6 cvt kit
,
gy6 cvt set