SSP-G Clutch Spring 2000 RPM Set (GY6, PCX)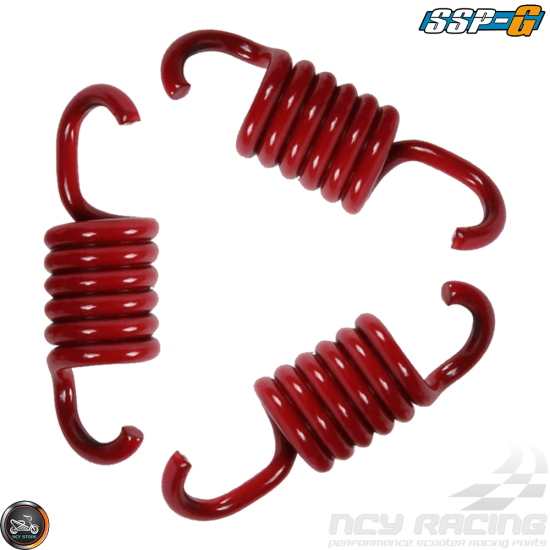 Description: Clutch springs do a couple of things. First, they supply the pressure to engage the clutch. They also determine the rate at which the CVT transmission changes from low to high gear along assisting the compression spring. A 1000rpm clutch spring will go into a higher gear than a 2000rpm clutch spring. Color coated identifies the strength of the clutch spring, for example, a clutch spring color coated red is identified as 2000 RPM which will delay the clutch reaction by 2000 RPM. The greater RPM spring will provide you with greater power. SSP-G counter pressure spring 2000 RPM uses a modified alloy spring providing better resilience and above-average strength for the GY6 125/150cc+ base engine. Get better acceleration on your GY6 by upgrading your clutch springs!
Installation: 1. Slack the belt by opening the CVT clutch gives belt slack to the variator side. 2. Then install the variator drive face while lifting the slack belt further away from the center boss if done properly should not see any splines between variator drive face slop-side and boss flat-side. Should be flushed together. 3. Then install the existing variator fan, washer, and hand-tight nut. 4. Finally, apply blue Loctite, torque nut to 30-35ft-lbs. For reassurance please consult your manufacturer's variator torque specs.
Specifications:

• 3x Clutch Springs (red): 2000 RPM / L: 13.3mm / ID: 6.5mm / OD: 11.3mm
• Hook-to-Hook L: 36mm / Wire Diameter: 2.2mm
• Made in Taiwan
• Fit Clutch: 120mm / Slider: 34mm / Nuts: M12, M28 / Washer: M12 / Bearing Funnel: 43mm / Bell Spline: 19 / Socket: 17mm, 19mm, 39mm
• Fit Compression Spring: 1k, 1.5k, 2k rpm
• Fit Clutch Springs: 1k, 1.5k rpm
• Fit Belt Size: 743, 835, 842-20-30 (Fit GY6 ONLY)
• Fit Belt Size: 816, 836-22-30 (Fit PCX ONLY)
• Fit Dowel Pin Set (8x10mm)
• Fit GY6 125/150cc+
• Fit PCX 125/150cc+

Supported Models: SSP-G CVT KIT (Part# 169-530); GY6 152QMI 157QMJ 161QMK 161QML Chinese Scooter, ATV, Genuine Buddy, Honda PCX, Kymco, Polaris RZR 170, Ruckus, Vento
-----
Item Weight & Product Dimensions:
• 0.037 Pounds | 1.417" (L) x 0.444" (W) x 0.444" (H)
SSP-G Clutch Spring 2000 RPM Set (GY6, PCX)

SSP-G
Price in reward points: 8