Dr. Pulley Variator Sliding Weight Set 20x15 (GY6B, PCX)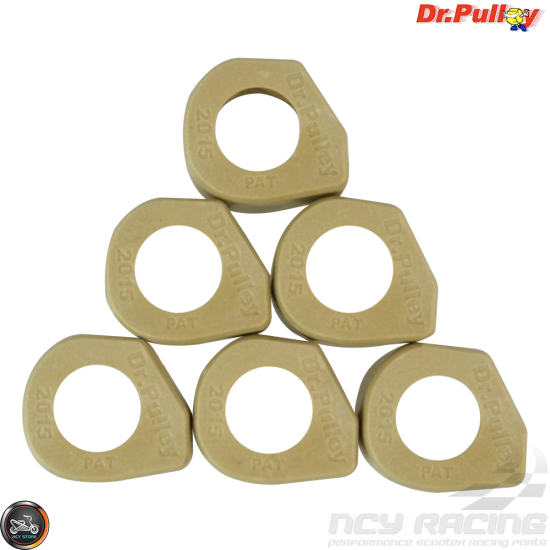 Description: Dr. Pulley Variator Sliding Weight Set 20x15mm for GY6B 150cc 4-stroke ZNEN and Honda PCX 125/150cc 4-stroke engines. Expect better performance from your scooter, period. No matter what stage you are in upgrading your scooter, simply add Dr. Pulley weights and a Kevlar belt for a power upgrade. Dr. Pulley Sliding weights are the most advanced weights available. These sliding weights perform better than standard round weights by allowing the variator to open farther for higher top speeds, and last longer with less performance material loss. The weights have several unique features such as their composite material containing nylon for better performance.
Installation:
1.
Slack the belt by opening the CVT clutch gives belt slack to the variator side.
2.
Then install the variator drive face while lifting the slack belt further away from the center boss if done properly should not see any splines between variator drive face slop-side and boss flat-side. Should be flushed together.
3.
Then install the existing variator fan, washer, and hand-tight nut.
4.
Finally, apply
blue Loctite
,
torque
nut to 30-35ft-lbs. For reassurance please consult your manufacturer's variator torque specs.
Features:

• Broadens your range of gear ratios
• Fastest Sliding Weights available
• High-Temperature Resistance
• Increases acceleration and re-acceleration properties
• Increases top-end speed
• Lasts longer than standard roller weights
• Low Friction Coefficient (low wear)
• No abrasive fibers (glass fiber or carbon fiber)
• Suitable for aluminum variator housing
Specifications:
Include the following Variator sliding weight set.
• 6x Sliding Weights: 20x15mm 7gm<21gm
• U.S. Patent Number: 7,276,004
• Material: SL-9T, SL-9TS (oil-less PA46)
• Made in Taiwan
• Fit Variator Housing: 117mm or 123mm / Shims: 24mm
• Fit Variator Shaft Nut: M14 / Washer: M14 / Socket: 22mm
• Fit Belt Size: 816, 836-22-30 (Fit PCX ONLY)
• Fit Belt Size: 842-20-30 (GY6B ONLY)
• Fit Dowel Pin Set (8x10mm)
• Fit GY6B 150cc+
• Fit PCX 125/150cc+

Supported Models: NCY CVT KIT (Part# 1200-1195); Aprilia Scarabeo 4T, Genuine Blur 220i, GY6B 150cc 4-stroke, Honda PCX, Honda SH 125, Honda SH 150, ZNEN ZN150T-18
-----
Item Weight & Package Dimensions:
• 0.126~0.379 pounds | 2.847" (L) x 2.847" (W) x 0.784" (H)

Dr. Pulley Variator Sliding Weight Set 20x15 (GY6B, PCX)
Stock:

23

Reward Points:

1

Part #:

1200-1201

Dr. Pulley
Price in reward points: 30
Tags:
dr. pulley variator sliding weight set 20x15mm honda pcx
,
dr. pulley 20x15
,
dr.pulley 20x15mm
,
dr. pulley 20x15mm
,
gy6b dr.pulley 20x15
,
honda pcx dr. pulley 20x15
,
dr pulley variator sliders 20x15mm
,
dr pully sliders 20x15mm
,
gy6b dr. pulley sliders
,
pcx 125 dr.pulley 20x15mm
,
gy6b dr. pulley 19x17mm
,
honda pcx 125 dr. pulley sliders
,
20x15
,
20x15mm